Art and Technology Podcasts
"A fire side chat where innovation, creativity, technology and science meet."
You are welcome to use this podcast on your website or newsletter.  You may also use the images on this blog post. Please copy the images and credit them as indicated.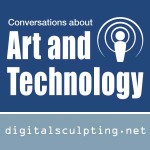 TOPIC:  Art and Technology 0005
An Interview with artist Paul Effinger about 3D printing and investment casting
GUEST: Podcast Host Bridgette Mongeon talks with Paul Effinger about the advances in 3D printing as it pertains to bronze casting. Effinger is featured in Mongeon's book 3D Technology in Fine Art and Craft: Exploring 3D Printing, Scanning, Sculpting and Milling
.
HOW TO USE THE PODCAST LINKS:
Use the links below, removing the brackets[ ].  When you put this code on your website the podcasts reside on our server, and a new browser will appear with the podcast playing in the browser.
[http://traffic.libsyn.com/artandtechnology/Art_technology_005_Interview_with_Paul_Effinger.mp3]
If you would like to review this podcast before posting to your website, blog or ezine  listen here.
Paul Effinger is a digital sculptor who is exploring different methods of bronze casting other than the lost wax method of bronze casting. He is exploring z corp printing in a cellulose powder, infiltrants and others.
Effinger worked 13 years in the gaming industry creating for published titles as lead Character Artists & Animator and contributed to many others as an independent contractor. He strives to see some of his creations into physical forms and loves the feel of bronze. This has caused him to explore in different areas of 3d printing and investment casting. The processes and pitfalls of 3D printing are featured in chapter 7 of the Digital Sculpting with Mudbox: Essential Tools and Techniques for Artists
To join the conversation on this topic visit the books Facebook page or LinkedIn.
You may also subscribe to these podcasts in iTunes.
For more information about this podcast, interviews or other information please contact the author directly.